The Role of Art in Peace building
A Personal Journey
Lecture at: MOCA Jacksonville – USA

Jan. 14, 2020.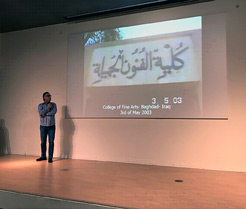 At MOCA (Museum Of Contemporary Art), Jacksonville, Qais Al-Sindy gave a lecture about the role of art in peace building through his personal journey. Al-Sindy focused on the themes of his major solo exhibitions in which he elaborated the concept of building bridges among the different cultures and civilizations and about the role of his art in peace and hope creating.