November 3-6th, 2015.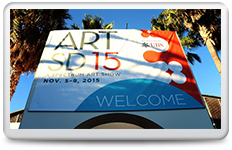 Since its inception in 2009, Art San Diego has enriched the city's arts scene beyond measure. As the only contemporary fine art show in San Diego, ASD has become one of the leading cultural events in Southern California and has inspired attendees from all over the world with its site-specific art projects, art talks and panel discussions, specially selected emerging artists, special events, and more. Taking place in a beautiful gallery-style venue in the heart of Balboa Park. ASD 2016 aims to play a key role in the park's rich array of cultural events, nurturing and strengthening San Diego's art scene with a dynamic agenda.
Qais Al-Sindy participated in Art San Diego 2015, as one of the artists featured by ALEXANDER SALAZAR FINE ART. With two huge paintings (7X9'), (7X7'); Al-Sindy presented his ability to create large scale artworks with the main theme that he used to work on, the relationship between the human-beings.
.