'Impulses from Iraq', Group Exhibition- Iraqi Cultural Center, Washington, DC - USA.

Saturday, 10th December 2011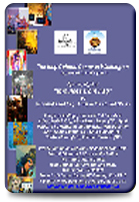 The Iraqi Cultural Center in Washington is pleased to invite you to the opening night of 'Impulses from Iraq' by accomplished Iraqi Artists in the United States. The participating group of artists includes: Adeeb Makki (CA), ABd Alamir Alwan (TX), Ayad Fathel (TX), Haidar Al-Mhrabi (DC, Najwa Alamin (MD), Nasir Thamir (VA), Qais Alsindy (CA), Shakir Alousi (MD), Thamer Dawood (DE). The art will be on display till January 10th, 2012.